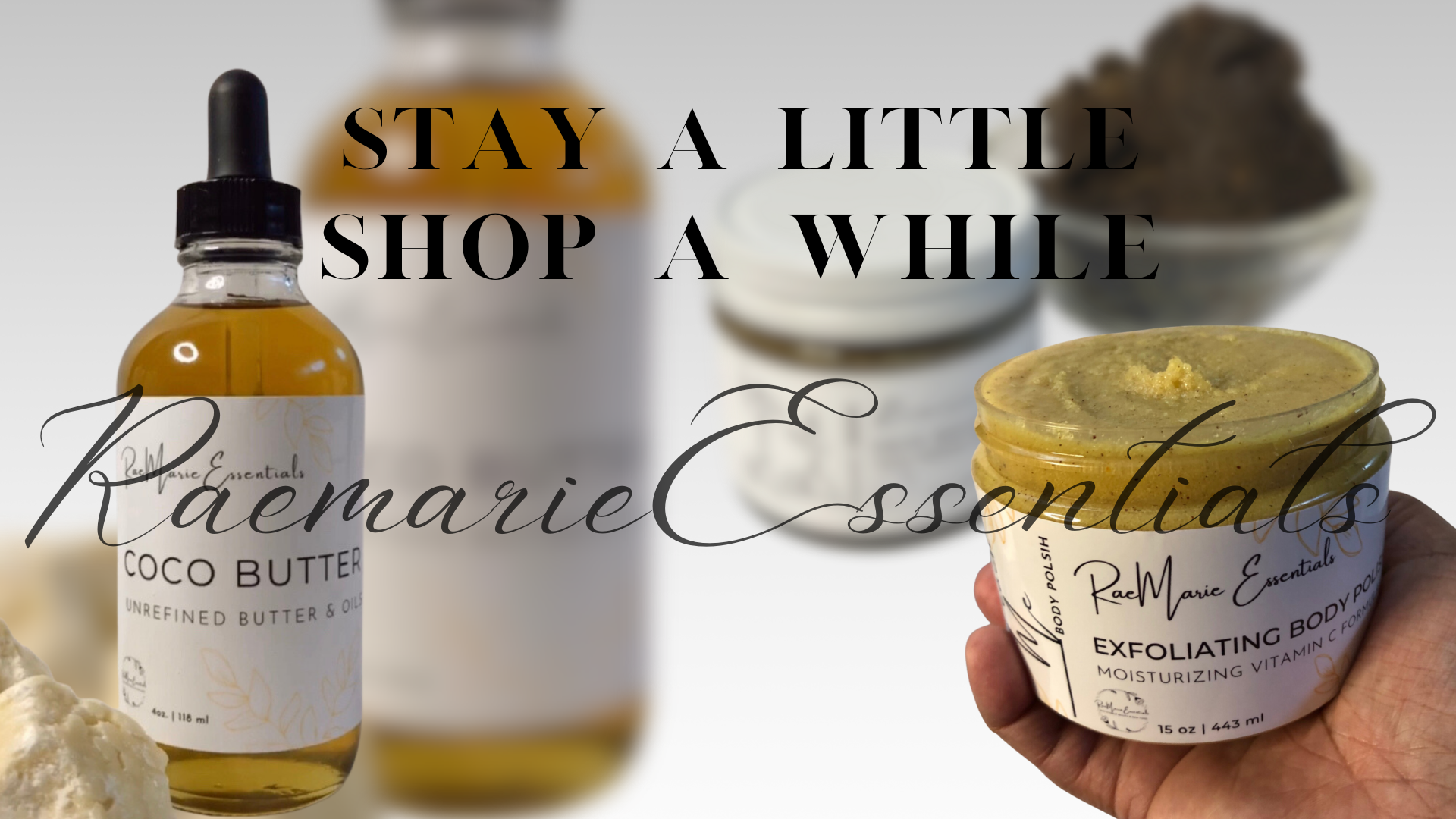 What does RaeMarie Essentials sell and for what purpose?
We sell natural hand-made bath and body focusing on sensitive skin care. Most items are bath products such as soaps and body scrubs and for body care, lotions, creams, body oils, and body butter. The reason for selling our products is to share what worked for our eczema skin care issue. The products we used are in our "Green Beauty section of the website. We also love self-care and we have other products that are fun and relaxing as a go-to when we want to smell beautiful. We have other goodies coming soon.
Does your company use natural ingredients?
Yes. we also carry natural ingredients what we call "green beauty" that does in fact have the ability to improve our skin and hair over time. We carry only personal sizes at the moment. We use all-natural ingredients in all our products which are ethically sourced from trusted Co-ops. We are vegan-friendly.
Are your products handmade?
Yes, all of the skin and hair care products in the store are handmade and cruelty-free, and we use preservatives to ensure no mold, yeast or bacteria won't live in the products. The most common way bacteria can get into products is from hand dipping whether it be from wet or dry hands, so we do the work for you to keep your product longer. Handmade by Shere'e, owner of RaeMarie Essentials.
How long has your company been in business?
Shere'e, the owner, has been making products since 2007 but hasn't established her business until 2022. The company has experience in creating successful products through years of experience, research, and self-taught way of making quality products collectively using ingredients that have a synergy which is our purpose of creating a particular product.
Do you customize products?
Yes, we can accommodate products being that individuals can be allergic to certain ingredients. For example, in our years, we came to know customers who can not use Coconut Oil, so we substitute using Babassu Oil. It's our pleasure to customize with ingredients and/or fragrances.
Does your company offer curbside pick-up?
What is your Return Policy?
How can I get coupons and samples?
A couple of ways you can receive coupons. You can sign up to subscribe to our occasional newsletters to look out for discounts, Follow us on Instagram @raemarieessentials to keep up with current posts, and when ordering, customers receive a discount code to have. We also give loyalty cards to fill out for a FREE product of choice upon completing it. Also, we offer 1 sample upon request per order.
How do I unsubscribe from receiving emails?
Simply unsubscribe from the email sent to you and we will make sure you are not receiving any more.
Do you ship internationally?
No. I only ship within the United States, but plan on shipping worldwide.
Where are your products made?